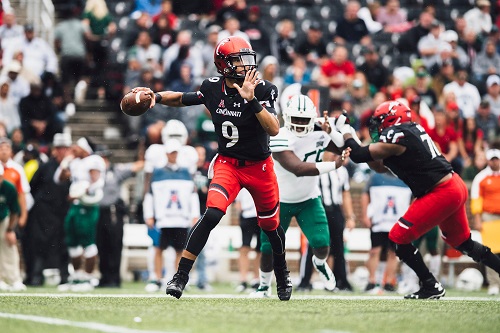 Nel momento in cui scriviamo, determinante per la tornata in corso, emerge una nuova realtà del panorama NCAA che ormai fa sul serio, e qualunque cosa possa accadere da qui in avanti manterrà il ruolo di cenerentola stagionale: parliamo di Cincinnati, addirittura settima del ranking AP!
Il team dell'Ohio veniva retrocesso persino dietro le migliori 20 nella preseason, comprese Minnesota, USC, UNC, Oklahoma State e Texas, adesso distanti anni luce. I Bearcats sono invece 5-0 in conference e 7-0 generale, grazie anche all'assenza di power 5 opponent nella schedule, primissimi in American e al solito costanti e continuativi per difesa, run the ball e clock control, armi classiche con Luke Fickell in sideline, per merito delle quali i 12.4 pts per game sono una cifra mostruosa e best 3 collegiale.
A tutto ciò va annessa la regia sugli scudi di Desmond Ridder, ingestibile ragazzone e superlativo nel 67% di completi, numeri ben superiori ai 55 del passato recente e frutto delle migliorie nel comparto di Mike Denbrock, specialmente perché lo junior al terzo anno corre pure ben 9 yard di media a gara ed è a meno di 200 dal superare il vecchio score (469 su 650), come il prototipo di dominante quarterback moderno richiede, per buona pace di noi "negazionisti" della prima ora, cresciuti a pane e pocket passer!
Per concludere, se Cincinnati regna nel proprio raggruppamento e potrebbe diventare la prima compagine G5 (Group of Five Team) ad accedere ai CFP, è principalmente per il tabellino offensivo prossimo al 42 a incontro, assoluta novità rispetto allo scabroso 29.6 (60mi) del 2019!
Dicevamo delle corse, tuttora elite pure se avare delle performance di Michael Warren (2500 yd le ultime due stagioni e 33 td), grazie al regista e a Gerrid Doaks, veterano da 230 pound promosso opzione primaria anche negli screen pass, a discapito del seppur efficiente transfer da Alabama Jerome Ford, pronosticata superstar di scuola Nick Saban!
Accantonato il sophomore Ben Bryant, perduto il TE Deguara destinazione Packers, rimpiazzato comunque perfettamente dal secondo anno Whyle, e avendo a mezzo servizio il rientrante e vecchio leader Alec Pierce, il corpo ricevitori ha un pacchetto omogeneo e profondissimo, nel quale la carenza di assi permette a Ridder di sezionare il campo e coinvolgere ben otto elementi da tripla cifra, dove si elevano il Notre Dame transfer Michael Young (251 yd), lo junior Jayson Jackson (266) e il sophomore Tre Tucker (205).
La difesa, persi Bryan Wright e Perry Young, priva di punti deboli e sempre egregia nel pass rush e terzi down ed eccellente nella run defense e takeaway, ripresenta il formidabile Jarrell White, ancora best in business sui placcaggi, appaiato ai secondi violini Darrian Beavers (Uconn Transfer) e Joel Dublanko (senior).
La stella Sanders, i veterani Tucky e Marcus Brown e la vecchia combo Ponder/Jabari Taylor formano semplicemente la linea numero 1 ACC, dove rispetto alle premesse non rende al massimo Curtis Brooks, mentre in secondaria James Wiggins sostituisce l'occhio da falco di Ja'von Hicks e Darrick Forrest, e i corner spot sono coperti a dovere da Ahmad Gardner, Bryant e Bush.
Ultimo sforzo per i Bearcats, che però, calendario alla mano, avranno sfide difficili per mantenersi al top e sognare lo storico accesso ai playoff; impegnative infatti appaiono nelle quattro trasferte residue quella contro UFC (5-2) e soprattutto la doppia a Tulsa in Oklahoma, una delle quali precedentemente programmata a metà ottobre.
Obiettivo: riscrivere la storia!